Good morning, and is it summer? Fall? I'm getting so confused. Welcome to Saturday Morning Garden Blogging.
On Wednesday, September 3, the high was 94° — hotter than it had been through the entire month of August.
On Thursday, September 4, the high was 72°, and yesterday we didn't make it out of the 60s. And we had more rain. And may get even more.
By Sunday we may be back in the mid-80s.
I'm fighting to get ripe melons. There are several well-formed green nutmeg melons, but the green nutmegs are under attack by melon aphids — and the melon aphids are under attack by ladybugs and ladybug larva.
The French cantaloupes are extremely susceptible to powdery mildew; in mid-August I missed spraying them with milk one week and the mildew gained a toehold. I'm plucking infected leaves when I see them, and keeping them coated in milk, which has slowed the progress of infection, but I haven't been able to eliminate it.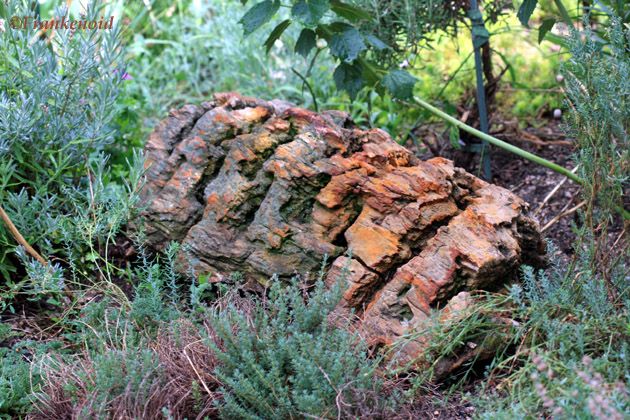 And I need your help! I've mentioned that I plant gladiolas in memory of my dad, and pale pink hyacinth for a friend taken far too soon. For the BossMan, the Mister found Jay the Rock at the estate sale of a rock hound. Jay the Rock is a large chunk of petrified wood, about 30 inches long; it took two men to move it. Jay the BossMan always had succulents in his office — but they were jade plants, Christmas cactus, and other tropicals that won't survive outdoors in our climate.
So I need suggestions for on succulents to plant with Jay the Rock. He'll be located in the parking strip front beds which is southern exposure, but often shaded by parked cars.
That's what's happening here. What's going on in your gardens?