Good morning, and Happy Birthday to US! Welcome to Saturday Morning Garden Blogging Eighth Anniversary Edition (that's 432 Internet years).
For last year's Seventh Anniversary Edition, the Editors — those who fill in when I want to take a break — shared their stories of how they found Garden Blogging.
This year, so no one is misled into thinking we hold any sort of expertise, we're going to share our Great Gardening Failures.
For me one of the biggest was The Pink Stuff — oenothera speciosa. It seemed like a good idea at the time. I was looking for something to fill in the flower bed in front of the porch, didn't have a lot of extra money to spend and this delicate looking flower was marked at the nursery as needing little water, loving sunshine, and "spreads easily". So I bought a little 4 inch pot and planted it.
Uhm, yeah — it did more than "spread easily" — it spread voraciously. Within six weeks that little 4 inch pot had spread to a foot-wide patch. By the end of the summer it had burrowed under the stone walkway and spread sideways for several yards. When I tried to control it by pulling it, I found that any little remaining rootlet (and the roots went deep) would send out a new shoot. By the next summer it was uncontrollable, overgrowing anything and everything in its path.
So that fall I ended up digging out the entire front bed down at least a foot to get the Pink Stuff out of the way (and planted a goodly batch of spring bulbs at the same time — at least the effort wasn't totally wasted).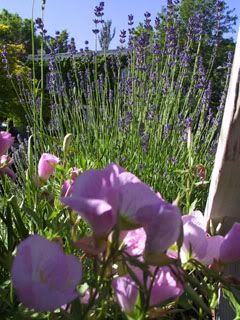 The Pink Stuff really is a great plant for our climate, but it must be planted where it must fight for survival and has some impediments for spreading. I now have a small patch planted under the rugosa hansa rose bush at the front of the stone-walled bed by the sidewalk, where it has to fight with the lavender to survive, and I only have to make sure it isn't able to spread beyond the rosebush.
And I learned in invaluable lesson: if the description says "spreads easily", beware. You might end up fighting a deadly enemy.
So go beyond the cheezy doodle are more stories, then share your own.
And here's to another year of happy gardening (and, perhaps, happy time gardening) together.
Merry Light
FIRST! (I'm usually working on the blog on Friday night before publication so I've decided to be the first to post... and, don't you hate people that do that "first" thing?!)
I have had several - nay, hundreds of plants that didn't make it in the garden and as houseplants! Fortunately for you, gentle reader, I don't usually take photos of the failed product, so I'll start out with photos of the garden fails before they became a pitiful, brown little husk of what they once were.
Let's start with the front half-whiskey barrel, which has been home to many annuals and adds a splash of color to the front yard in between the evergreens. For a few years, I had some pink morning glories, among a few other things, and they kept re-seeding so I just let them go crazy. Then year before last (2011) I decided to fill the barrel with the dianthus which I had been growing in the front flower bed with the peonies. Usually they are sold as an annual, but in my micro-climate have been a perennial. I love their colors and the fact that if I deadhead them they'll bloom more than once a summer. I dug them up from the front yard and transplanted them into the barrel, and they gaily bloomed for me so nicely that I took a picture and posted them on the SMGB one balmy summer day. They also became the background for my Twitter home page. I love them! So pretty.....
Then, the few grass blades poke up - I think, oh dear, I tried to make sure all the little rootlets from the stupid grass was purged, but nooooo.... Now, it's a barrel full of grass. I'm going to try to salvage the dianthus, and I'll have to figure out a way to get rid of the grass before I can plant anything else in the barrel. I may even have to put all new soil and start from serious scratch. Major Fail!

Next, let's try getting new cuttings to survive from the only rose bush I really like - the Austrian Copper rose. Maybe I started too soon in the winter months - February. Maybe I didn't have them in the right spot in the house. At any rate, I go out and cut some branches, shave off the bark, dip them in rooting hormone, and put them in a moist planting medium, and before long, voila! little buds,

and then some leafing.....

Then - nothing more. The new shoots curled up and died. Maybe I started them too early in the season? I'd read about the pioneer women who carried sprigs of their roses from the east in their bonnets, on the covered wagons. I guess I am not pioneer woman stock, because it sure didn't work for me! Serious Garden FAIL! Maybe I'll try it this spring in April. I'll keep you posted.
Ed in Montana
Happy Eighth Anniversary Garden Bloggers! I have been thinking about memorable gardening disasters and there have been two that have stood out over the last couple of decades.
Disaster Numero Uno: Back in the early 00s, I was purchasing my tomato seedlings at the farmer's market from our biggest local grower Johnson's Gardens. Terry Johnson has a large greenhouse in the valley, and supplies lots of seedlings of all kinds in May and June each year. I had been particularly impressed with his Oregon Spring tomato plants the previous season, which produced a lot of ripe, medium-sized fruit before September, so I purchased fifteen of the plants that year.
By mid-July, I knew something wasn't right. The maturing plants didn't look like Oregon Springs at all. By the end of July, I could see that none of them were regular sized tomato plants; they were all cherry tomato plants like Sweet Millions. Soon, we were inundated with hundreds if not thousands of penny-sized fruits. Too small to make into sauce, and even too small to be worth drying, we threw them in salads until we were sick to death of them. Friends and neighbors refused them, with many of those folks having purchased the same mistaken plants!
Johnson Gardens apologized profusely, claiming that a large bag of their seeds had been mislabeled. This would have been funny, but it happened again the next year, with Sweet Millions being mislabeled as another variety, but I had avoided buying more than 3 or 4 Oregon Springs that season.
Disaster Numero Dos: This was definitely the biggest gardening disaster, occurring in either 1993 or 1997. Back before our globally warmed Summers, we used to have a regular late August storm that would bring cold rain to the valleys with some snow in the high country. That year, the forecasts called for a bigger colder storm, so I prepared to save our vegetable garden with a collection of large tarps.
The afternoon prior to the storm, the temperature dropped precipitously, and Mrs. Ed and I covered all the tomatoes and other veggies with thick plastic tarps weighed down with rocks and lumber. Amazingly, we received four inches of heavy wet snow, covering everything in the valley.
The next day, the storm passed and peeked under the snow heavy tarps and saw that the tomatoes had survived. Until that night when the temperature plunged to 26 degrees F, turning the slushy snow to hard ice and freezing the tarps to ground. What a disaster!
Happy 8th Anniversary!
jayden

Every now and then when I'm looking through the various collections of garden photos I have stored in my computer or on-line I come across a picture of a plant or flower that I once enjoyed but no longer have in my garden. I pause for a moment and think "Oh yeah, I used to grow those!" The most common reason plants go missing from the garden is because they just don't do well in the extreme environment and harsh growing conditions of Central Texas. And because I have a carefully cultivated reputation as a successful gardener to uphold I'm quick to remove any dead plants from the beds without much ado. But there has been and always will be an endless parade of failures in my garden because I simply cannot resist trying out new things. I wouldn't have it any other way. So without further adieu:

in memoriam
welso
Garden failures? We've all had them. Can't help that; it goes with the territory. The ones that stand out in my mind are the heartbreaking ones, the ones where I get lulled into a level of confidence, then Wham!
That happens when I find a plant that does well for a few years. The success encourages me to get more of said plants, and more varieties of said plants. Then just when I think I've found a stalwart addition to the garden, the magic year comes along that wipes out every last one of those plants. Sigh.
First it was the pincushion flowers. Did good with the blue, got more blue, then got brave and got the more delicate pink variety. They all croaked in the same year. After that was the salvia. The salvia disaster was followed by the dianthus disaster. Most recently, it was the yarrow disaster.
This year, I would like the disaster to bypass my wanted plants and hit the weeds instead. Please???
Jupiter Surf
Happy Anniversary Frankenoid...Saturday Morning Garden Blogging, the most beautiful place on DKOS.
Caladiums.
The bane of my existence, have tried to get them to thrive down here in the sandy soils of Florida...They do great once I bring them home from the nursery, looking all nice and cheerful, in their bright colors. Then the heat sets in and BAMdead and wilted they are...It is either to hot and watering is not usually consistent enough, they are DOA in a short period of time.

"borrowed" photo from flickr of Fancy Leaf Caladiums...mine don't last long enough to get photographed.
Ozark Homesteader
Happy anniversary, Frankenoid, SMGB, and all of the gardeners!
I've had lots of garden failures, but by far my worst is thyme. I kill thyme like it's time. I sometimes buy thyme three times in a season, only to kill it each time. I have no pictures of thyme; it's never lasted long enough around me to be photogenic. I always picture thyme as if Missy's Brother might display it, spilling artfully from an ancient urn, tipped on its side.