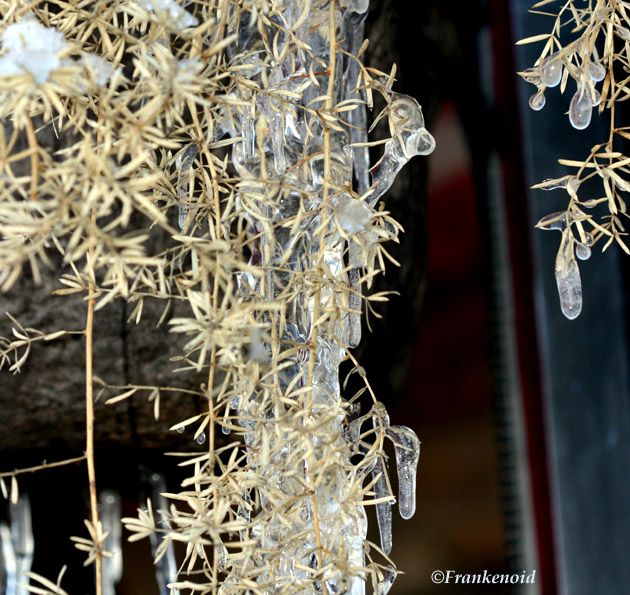 Good morning, and happy Groundhog Day! Welcome to Saturday Morning Garden Blogging.
Denver finally got a measurable amount of snow last week; starting Monday evening and continuing through Tuesday morning we accumulated about 3".
Yeah, yeah, I know — just a little spit. But we've had so little moisture this season any snow seems to be a big deal.
It also got cold again, with the low going down to 2°, creating this ice display on the remnants of last year's hanging baskets at a nearby restaurant.
By yesterday we were back in the mid-50s and today a groundhog in Denver would likely see its shadow. By tomorrow — well, we might get to 60° here in the city.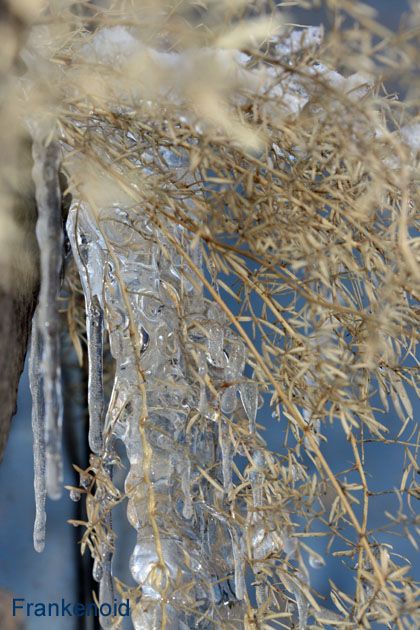 By the end of this month I hope to be starting my tomato plants. Of course, I always promise myself I'll start the tomato plants by the end of February so I'll actually get to starting the tomato plants by mid-March.
But this year I really mean it! I have carmello tomato seed from Renee's garden.
Even better, I have the grow room the Mister set up for his happy time gardening. Yeah, my Mister doesn't do anything half-way and there will be room for a couple of tomato plants along with his… babies.
Which will clear out space under the metal halide light in the kitchen for starting a batch of melon plants — early. I'm going to grow the green nutmeg variety that did so well for me last year, plus two types of French cantaloupes. If I can figure out where to put them, I may try some honeydews, too.
February — ah, February, when the tips of the spring bulbs emerge, and I can imagine the warmth of August and the ripening tomatoes and melons.
That's what's happening here. What's going on in your gardens?