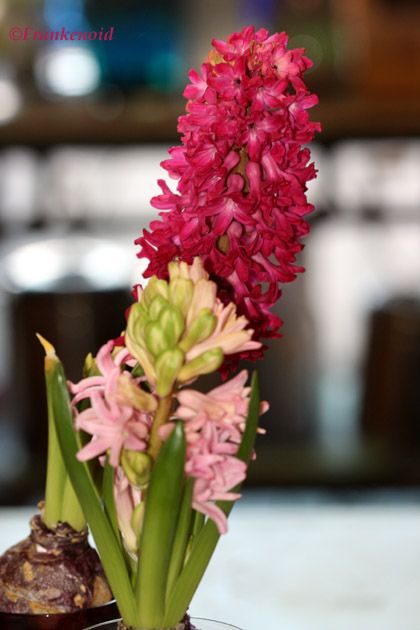 Good morning, and where there are hyacinth, there is hope. Welcome to Saturday Morning Garden Blogging.
Denver has started out the new year cold: a front came in New Year's Eve, dropping high temperatures to below freezing, and lows to the teen and single digits. Unfortunately the front brought no more moisture to us — but at least we had a little insulating snow left from Christmas.
The cold abated yesterday, and we got into the mid-40s. A few days of warmer sunshine will melt what little snow remains and, perhaps, even get rid of the stubborn ice patches in the shade. We'll remain on the warm side of average for the next few days until mid-week, when another cold front will bring another possibility of a bit of wet.
Please.
Meanwhile, in a sure sign of creeping toward spring, the forced hyacinths have started blooming. Jan Bos, the magenta-pink, is consistently my earliest-blooming forcer; the pale pink is Pink Pearl.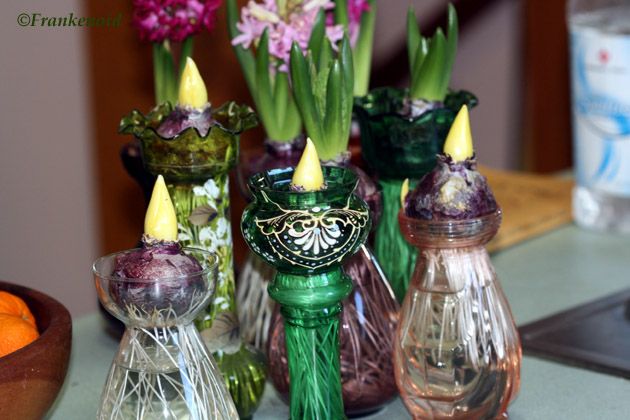 I have hyacinth in several stages of growth, which enables us to enjoy the fragrance until the bulbs start blooming outside — just a couple of months away.
Last week after packing away Christmas, I started clearing off a shelving unit so it can be moved into the good southern-exposure windows in our bedroom to hold plants. Between the jasmines, gardenias, aloe and bay laurel, I'm running out of room, and need to clear out space under the LED and metal halide plant lights for starting seedlings and bringing plants out of cold storage dormancy and acclimate for the coming growing season.
Oh, and I need to order my seeds. Damn. Forgot to do that last week.
That's what's happening here. What's going on in your gardens?