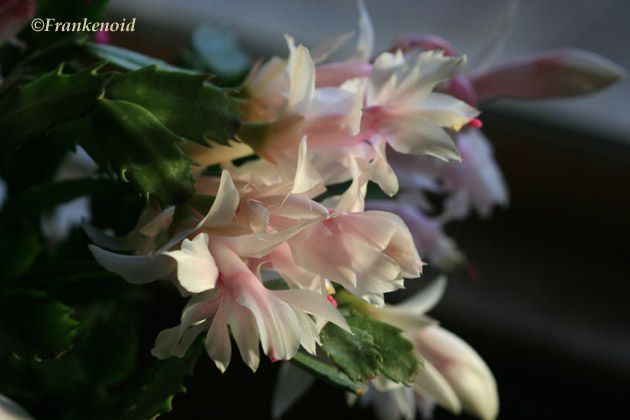 Good morning, and this is just freaky. Welcome to Saturday Morning Garden Blogging.
Last Monday we had a hint, a bare glimpse, of weather appropriate for the season. The high was 36°, and the low was 19°.
Then we shot right back up into weird, freakish, September temperatures. On Tuesday the high was 59°; by yesterday we were in the mid-60s again. By Sunday we may be to the upper 60s.
How the hell am I supposed to get to feeling all Christmassy when I don't even need to put a jacket on to go outside and when the salvias in the yard are still green.
Jeez.
I've been trying. Really, really hard.
I've done the Christmas shopping.
I've been playing Christmas music while I wrap the packages.

I went to a nursery and bought some more Christmas cactuses — and they are very lovely.
I'm even cleaning up and rearranging the living room preparatory to getting the Christmas tree — maybe if we go out and do that this weekend it will feel like the holiday season?
About the only thing that feels right and Christmas-like is that it's dark so very early in the evening.
The long-range forecast says we may — may — get some cooler weather and moisture by the end of the week. Maybe if we're really lucky the moisture will come down as snow, even if it doesn't stick.
I certainly hope so. If I wanted a tropical Christmas I'd move to Florida.
That's what's happening here. What's going on in your gardens?